De Holmegaard boog
From Pijl en Boog
Jump to navigation
Jump to search
De Holmegaard boog
In de 1940s werden twee bogen gevonden in het Holmegård moeras in Denemarken. Een artikel hierover werd gepubliceerd door C.J. Becker in 1945 ( "En 8000 aarig stenalderboplads i Holmegaards mose" by C.J. Becker, Fra Nationalmuseets Arbejdsmark 1945.)
Eén boog meet 154 cm, de andere waarschijnlijk 160-170 cm. Ze zijn gemaakt van Iepenhout (=Olmenhout) en waren waarschijnlijk redelijk zwaar in trekkracht.
Foto's van de Holmegaard boog. Deze boog wordt bewaard in het Nationaal Muzeum te Kopenhagen, Denemarken.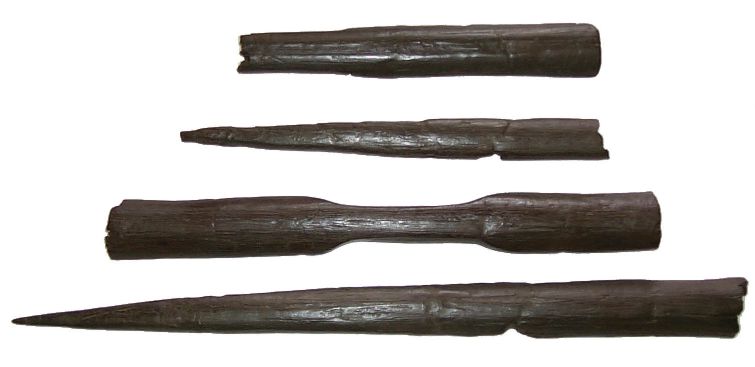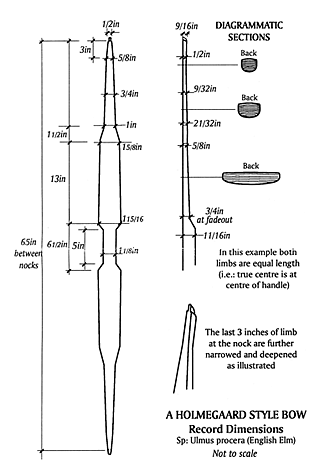 Clark (Clark J.G.D., 1963, Neolithic bows from Somerset, Englang and the Prehistory of Archery in Northwestern Europe. Proceedings of the Prehistoric Society 3:50-98)

Foto van een Holmegaard-type boog.. niet zeker of dit "de" originele uit Holmegaard is.
Tillering van de Holmegaard boog
Media:Tillering the Holmegaard Bow.pdf
The National Museum of Denmark

Frederiksholms Kanal 12,
DK 1220 Copenhagen K
Tel.: (+45) 3313 4411
Fax.: (+45) 3347 3333
E-mail: nationalmuseet@natmus.dk